Sunday, Jan 14, 2007 - 18:06 SGT
Posted By: Gilbert



- sport -


Blue Lions, Red Devils


Ran out of excuses to stay home (other than the rather reasonable one that the match would be shown live on TV anyway) and thus made the trek down to the National Stadium to watch Singapore play Vietnam in the competition formerly known as the Tiger Cup.

Went through some TIME magazines while on the MRT, and thankfully the metal connectors between carriages didn't squeak as much on this train - they really got on my nerves in my trips to and from Sim Lim Square on Friday. That was followed by a ten-minute walk from the Kallang station to the stadium proper. Shortcut through the PA Headquarters was closed, but I simply blended in with some people who were obviously headed for the match, and with the floodlights clear in the evening sky, how hard could finding my way be?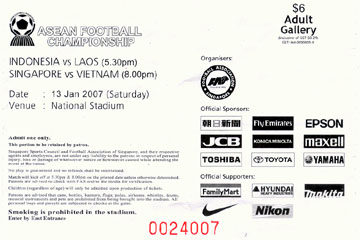 Remind me to pay kh for this...


Entrance was $6 for two matches, including the earlier Indonesia vs Laos contest (which ended 3-1 to Indonesia). Students get in for $2, but apparently the maximum level of education once can get to while still considered a student is polytechnic level; University appears more tertiary than tertiary.



"Well, I prefer adidas"


Met up with kh and andy at the East Entrance, where we were accosted by a cameraman looking for our thoughts on Nike's new advertising campaign. Kh obliged for his fifteen seconds of fame :P

Settled into the gallery with two other of andy's friends, about in time for the national anthems. Sad to say, the Vietnamese travelling supporters were loud. Then again, people don't travel hundreds of miles to sit in silence. Probably some of them haven't forgotten the time Singapore lifted the Tiger Cup in 1998 when they were the hosts - we had the Shoulder Blade of Sasikumar to thank for that. Despite the overall perception of local soccer as not really up to the mark, the Lions have won two of the five editions, not too shabby at all. Too bad about qualifying for the Asian Cup or even the SEA Games gold, though.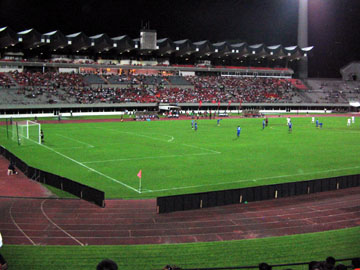 Ready and waiting


Without danger of spoiling much, I can reveal that the eventual nil-nil draw was rather drab. Soccernet has a rather good summary of the match (ignore the fact that it's entitled Thailand v Myanmar Report), but I've been spoilt by high EPL standards, and Man Utd's breathtaking play in particular. It didn't help that many of the names were unfamiliar to me, whereas in the Malaysia Cup days the entire squad were household names.

The Lions were decked out in blue, awaiting Nike's new kit design, and Vietnam were in white. Surprisingly, the visiting fans went relatively quiet after the kickoff, not that we were too loud either. I estimated about ten thousand souls in the stadium, but also marvelled that the stands weren't actually that high - expansion to seat a hundred thousand should be very possible.

Slick interpassing was few and far between, and the Lions inevitably tried their luck with predictable long balls, especially wide to the right flank. Creativity in attack still seems the weak spot of the side. Their organization at corners was also questionable, with no-one stationed near the half-way line to try for a fast break, but no-one covering the posts either. Maybe the fashion hasn't caught on in Asia? On the bright side, they won most of the headers, and appear a pretty solid defensive unit.

Neither of the goalies had to make any outstanding saves, so that pretty summed the night up. One heartstopping glitch saw Phan Thanh Binh go through and put the ball in the net for Vietnam, but the linesman's flag was already up. No free T-shirt either, and after a short discussion on the new iPhone at the MRT, joked to kh that United could have scored three by the time I got home, then boarded the train home for the United match.

Switched on the TV at about 11:40pm. What do you have it - Man Utd 3, Aston Villa 0. Well, well - the first forty minutes of live United action that I have missed in months, and they go and score three on me. At least I caught the replays. Park Ji Sung was pretty involved in all of them, scoring the first before Carrick opened his United account, and Ronaldo went level with Drogba at the top of the scoring chart with a header. And he's not even a striker!

Slightly sad to say that there is simply no comparism between Man Utd and Asean national soccer. Even when in second gear, the Devils were still a sight to behold. No more goals in the second half for them, and Villa even managed a consolation, but much of that was down to Sorensen. Wayne Rooney was out of sorts for goodness knows how many games now - I think he's trying too hard, though that's part of his appeal. He was desperately unlucky to hit the crossbar with a superb curler late on, and was not that all pleased with having to play the final half-hour on the left flank to accommodate Saha either.

Chelski battered sorry Wigan 4-0 to stay six points behind, but the Fink Tank gives United a 92% chance to lift the EPL trophy this season, and I'm inclined to believe them. The main justification for this is that while United can of course drop points, so can Chelski - and realistically it will take United to amass two losses and a draw more (in the 15 matches left) than the Blues, before they can be overtaken.

Oh, there are the tricky fixtures - like this Saturday away to Arsenal - but Chelski have to play Liverpool too. After the Gunner test, it looks smooth till March 3 at Liverpool, possible hiccups against Bolton and Pompey, then the Big One - Chelski on April 14. But that'll probably be rescheduled due to the FA Cup semi-final clash.

Finally, an insightful read from the official Manchester United forums. A rather heated debate on whether Man U is an acceptable abbreviation for the club's name, which according to some old-timers, is highly disrespectful due to its closeness to the Manu** taunt by rival fans.

Well, no club is immune to these jibes, though some have it easier than others (think Arsenal and Arsene Wenger). Pretty pointless most of the time if you ask me, though interestingly I was hard pressed to find derogatory nicknames for the less prominent clubs (clue: other than their local competition, no one cares enough). Several Asian supporters did point out that Man U is a largely neutral and popular name for the club here (which I believe is so), only for them to pretty much get shot down by the oldies.

Personally I've no problem with it - seriously, it's pronunciation is pretty far from Manu**, and in any case the attitude with which it is said is far more important, but in this case I'll defer to the seniors. Man Utd (rhymes with Canute?) it'll be from now on.







Next: V is for Vincent





Related Posts: