Sunday, July 11, 2010 - 20:03 SGT
Posted By: Gilbert



- sport -


The Cup At World's End




Fun Stat of the Week

Approximately 2% of one's life is lived during a World Cup



It's all come down to this, after days of tripping down to the local community centre, coffeeshops and even SAFRA Jurong, Soccernet gamecasts and (perfectly legal) blurry Indonesian television signals - twenty two men, one Jabulani, one World Cup.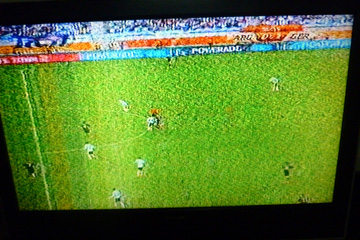 You get what you (don't) pay for



I've been a poster boy for information entropy these couple of weeks; After England did it in for themselves, I switched over to my backup Brazil, who immediately fell to the Netherlands after a bright start. Undeterred, I rooted for Argentina as my cousin had a little something riding on them (a decision for which Maradona's naked ambition had zero influence on), and they self-destructed in spectacular fashion against Germany, courtesy of Maradona's ballboy.

That, by the way, also gave additional consolation to England, who lost by 1-4 and not 0-4. God save the Queen!

I felt it hard not to back Paraguay against Spain, due to the not inconsiderable charms of their Godiva-like Number One Fan, Larissa Riquelme; Not expecting them to progress from anything other than a penalty shootout, my hopes were briefly raised when Paraguay won a penalty, but had it saved. They did survive one of their own, before a late Villa winner came.

Of the four sides remaining, I most wanted Uruguay, who incidentally have a smaller population than Singapore, to win it, and the Dutch obligingly eliminated them by three goals to two.

With the Cup now bound for Europe, I settled on Germany as by far the least of three evils, and even roped in Mr. Ham to provide extra analysis. Mr. Ham confidently went against seasoned tipsters Paul the Octopus and Mani the Parakeet, who went for Spain (leading to possible actual seasoning for Paul by disgruntled German fans). We were both wrong, as Spain edged past the Germans by the odd goal in one of the slowest and most boring matches I have had the bad fortune to sit through, and I don't care what anybody thinks of that.



Mmmmmmmmmmmmmmmmm



For third place, my heart said the delightfully roguish Uruguay, while my head said the clinically efficient Germany (supposedly they hired undergrads to research on the other teams, a nice job if one can get it), and Mr. Ham went for... Uruguay.

The mostly meaningless match was far more entertaining than most that had gone by, and it was 1-1 at the break, and 2-2 on the hour mark, with both these goals being missed thanks to my fellow spectators grinding out a 3-3 in PES on the PS3 (6-3 to Uruguay after extra time, with two Germans sent off). In real life, the Germans won it 3-2, as Forlan crashed a free-kick against the crossbar in the final seconds.

So it's down to Holland and Spain tonight, and while I'm not a fan of either, I would mind the Netherlands a bit less, and even grudgingly acknowledge Robben's skill at drawing fouls and cards - he does at least run for his keep. Also, Dutch captain and former Arsenal player Giovanni van Bronckhorst is of Indonesian heritage. Who would have guessed?

Mr. Ham's tip: Spain.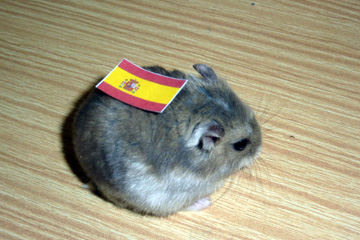 This probably means the Netherlands wins, by the way



Spain! Spain! Spain! (this had better work)







Next: Boot Riddance





Related Posts: