Saturday, Sep 26, 2015 - 23:56 SGT
Posted By:
Gilbert
-
sport
-
Fit For Purpose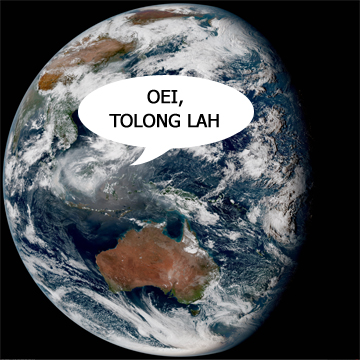 PSY this is gentlemen... oh, it's PSI
(Source: rammb.cira.colostate.edu) [Original]



Not a good week to start returning to shape, with the worsening haze situation forcing a first-ever school closure for that reason on Friday. As it so happens, I'm not wanting for side projects... but, some quick sports coverage.

Manchester United first. I confess, I haven't been watching too many of their matches live of late, as compared to a decade ago when it was one of the major attractions of each weekend. Their slump in recent years, as compared to the Ronaldo-Rooney-Tevez days of yore, and the homegrown heroes era before that, hasn't helped. Still, it doesn't take much of a fan to recognize that Rooney is probably on a downhill trajectory, and at a rapid clip at that.

When you consider that he could well retire as England's all-time leading goalscorer - he's just one from Charlton's 49 - it makes his plodding about nowadays all the harder to take. With the raw aggression and power that he had in spades as a teenager long gone (when was the last time he actually ran past a man?), he's been trying to reinvent himself as a playmaker. Let's just say that while he can distribute crossfield balls accurately enough, it's difficult to believe that there's no better specialist available (personally, there are a few superior Number Tens already at United). But, eh, it's also hard to justify paying him £300000 a week to lounge on the bench.

The very timely arrival of Anthony Martial has confirmed what United can do with a forward who, well, actually runs forward, and he's increasingly looking like what Falcao was supposed to be (the actual article has been on the reserve list at Chelsea). I've seen too many flashes-in-the-pans to get overly buzzed - I confess that I thought Macheda was the real deal, about the time of the turnaround at Villa he inspired in 2009 - which reminds me, hopefully Luke Shaw recovers from that break.



A gentle reminder that nobody gets all of them right.
(Original source: planotatico.com)



Ferguson made a newsworthy proclamation some days back, when he claimed that Ronaldo, Cantona, Giggs and Scholes were the only world-class players he managed at United. This was received with some skepticism by supporters, who tended to note that if nothing else, Schmeichel and Ferdinand should have comfortably made the list, while a very good case could be made for the likes of van Nistelrooy, Keane, Beckham, Stam, Vidic, Evra and Irwin, among others.

While it has also been observed that some of the more glaring omissions hadn't left United on particularly good terms with Ferguson - Keane, Stam and to a lesser extent Beckham come to mind - there're too many exceptions to this criteria, which leads one to suspect that club loyalty (i.e. many seasons, then retiring at United) was a big plus. This still leaves Ronaldo, but then, it's not really up for debate there.

And on to rugby and their ongoing World Cup. I realise I've likely been watching more rugby than football these days, no thanks to Setanta screening them around the clock. And, how often do you get your name on all the balls?

The story of the tournament so far has been Japan's 34-32 victory over giants South Africa, who together with New Zealand and Australia, are often considered the top tier of rugby union (with England a half-step behind, then France, the other British Home Nations, and maybe Argentina). To put this into context, Japan were quoted at as high as 40-1, though actual expectations were probably quite a bit lower. In footballing terms, it'd be roughly equivalent to Singapore beating Brazil 4-3 (i.e. fat hope of that, even considering the present state of the Brazil team)




The try seen around the world




If there's one lesson to be taken from this, it's that genetics are hardly the limiting factor in rugby at least, and good technique and tactics count for a lot.

Wrapping sport up - Yogi Berra's deceased (actually, I thought he was, but you can never be sure), a five year-old's showing some sick basketball moves, and sportswriters may soon be out of a job too. Welcome to the automation club. At least it's never too late to start anew, with a 105 year-old calling Bolt out after his smokin' 42.2s time in the 100 metres. Actually, have Bolt give a 300m handicap, and it'd be a fine contest.

And, er, Mike Tyson has lent his name to a Bitcoin ATM. I'm unsure if this will help Bitcoin's reputation, though it has indeed been classed as a commodity, as explained here last May. Slowly, slowly.







Next: The President And The Pope





Related Posts: