Sunday, Mar 06, 2016 - 21:34 SGT
Posted By: Gilbert





War Of The Worlds




"Gentlemen, you can't fight in here! This is the War Room!"

- Dr. Strangelove or:
How I Learned to Stop Worrying and Love the Bomb




Ceasefire?

Mr. Ham: I am sorry to cut in here, but we have BREAKING NEWS from the GOP! Former Votermania participant "Fit Mitt" Romney - who however had his, pardon my French, ass whooped by B.O. Hussein in a woeful display - has announced an unscheduled promo after THE TRUMP smacked down his The Establishment allies on Super Tuesday Fight Night!

He's marching out of the tunnel now with Establishment Golden C-3PO Marco Rubio... and veteran oldie Johnny Cane? I thought he had retired! Wait, there's more! It's Ted Cruz, in a neck brace! And Kasich! They have put their differences aside for the moment, to pile on TRUMP! Well, now, this is kind of unsporting, people. Why won't they duel THE TRUMP one-on-one like Real Men, I wonder? How disappointing.

And now Fit Mitt is putting the TRUMP down behind his back... wait, didn't he literally beg The Don for his support just a few years back? So, it's come to this, has it? A motley coalition of convenience between a battered bot with parts coming off, a booger-eating teddy bear, and whatshisnameagain? It's really quite miserable, for this historic organization. They're taking turns to drone on, and after badmouthing TRUMP for ages and announcing the formation of the #NEVERTRUMP cartel, they're promising to support him if he wins anyway? Erm, what exactly was the point of this whole show and tell then...

*loud music roars out*




THE TRUMP USES WHAT MUSIC HE WANTS!




IT'S THE MAN! LIVE AND IN PERSON! TO CONFRONT HIS ACCUSERS FACE-TO-FACE! THE #NEVERTRUMPERS ARE PANICKING! FIT MITT CAN BARELY BELIEVE HIS EYES! THE ESTABLISHMENT GOONS ARE FORMING UP TO COVER THEIR MASTERS' RETREAT! But wait, TRUMP is not advancing, he has simply held out one YUGE HAND for a microphone.

He brings it up to his mouth. The #NeverTrumpers can only wait in silence. Their eloquence has abandoned them totally.

TRUMP puts the mike down.

He lifts it to his mouth again.

Nope, still nothing. The #NeverTrumpers look distinctly uncomfortable, as if they are having trouble breathing, but still, not a whisper from them.

He puts it down again.

TRUMP is playing the #NeverTrumpers and The Establishment here, ladies and gentlemen! He has them wrapped around his pinky finger! What a sight to behold! Now he's raising it... and he's opening his mouth! THE GOD-EMPEROR HAS DEIGNED TO SPEAK! What will he say? What wisdom shall pass today?



"I HAVE A BIG DICK."


GLORIOUS! SIMPLY GLORIOUS! FIT MITT IS DUMBFOUNDED! THE #NEVERTRUMPERS ARE IRREVOCABLY STUMPED! RUBIO BOOTS UP HIS SPEECH SYNTHESIZER, BUT NO SOUND EMERGES! THEY ARE TOTALLY, TOTALLY BEATEN! THEY HANG THEIR HEADS IN SHAME! THE FIRST SHOTS OF THE GOP CIVIL WAR HAVE BEEN FIRED, AND TRUMP IS OWNING!

Fit Mitt is exchanging frantic glances with the others, trying to muster up the courage to rush TRUMP together... AND THEY ARE BLINDSIDED FROM THE FLANKS! KEN SIANA AND LOUIS TUCKY, THE "COUSINS OF DIXIE", HIT THE ESTABLISHMENT LIKE THE VENGEANCE OF GENERAL ROBERT E. LEE BETRAYED! THE ESTABLISHMENT LACKEYS ARE BEING ROUTED! FIT MITT IS SWAMPED! RUBIO IS DOWN! KASICH IS NOWHERE TO BE FOUND! CRUZ IS BARELY STANDING, THANKS TO THE INTERVENTION OF HIS PERSONAL BODYGUARDS, THE HALF-CANADIAN "MAINE EVENTER", AND THE KANSAS PREACHER! TRUMP JUST LAUGHS FROM THE SIDELINES!

Siana and Tucky have had their fill of their VICIOUS BEATDOWN of Robot Rubio, and leave him a smoking wreck on the ground! GOD-EMPEROR TRUMP only then strolls up to the stage, not a hair out of place, and THE FIREWORKS BEGIN! SIANA WAVES THE CONFEDERATE BATTLE FLAG TO A THUNDEROUS RECEPTION, AND THE MEN OF THE TRUMP INVASION PERFORM THE CROTCH CHOP! YOU KNOW WHAT'S YUGGGGEEE, PEOPLE? THAT'S WHAT'S YUGE! TUCKY LEADS THE ARENA IN A CHANT! THE SOUTH WILL RISE AGAIN!




BIG SHOTS INCOMING!




The crowd gives the TRUMP contingent a standing ovation as they saunter off, with the ignored Fit Mitt groaning in pain. Robot Rubio is in even worse shape, he's doing a good impression of a crushed tomato can; Ted Cruz only then hobbles over, to check on his fallen comrade. Rubio looks up pleadingly - they have got to unite against TRUMP...

AND CRUZ STOMPS RUBIO! SWEET MERCIFUL HEAVENS! THE RICKETY #NEVERTRUMPERS ALLIANCE HAS ALREADY FALLEN APART! CRUZ GIVES RUBIO ONE LAST KICK TO THE FACE BEFORE DEPARTING! HE'S GOING IT ON HIS OWN! RUBIO WILL NEED A HECK A LOT OF SPARE PARTS, IF HE'S GOING TO SURVIVE THE FEUD IN FLORIDA, THE TUESDAY AFTER! But before that, we have the MICHIGAN MELEE this coming Tuesday night, on the GOP PPV Channel! Be sure to tune in to catch the next instalment of this RIVETING STORY... hey!


The War Room

Me: *pocketing microphone* Enjoying yourself, huh?

Mr. Ham: Seriously, this is the most fun I've had in ages! Like, how do they come up with all of this? The scripts practically write themselves!

Me: Well, save the theatrics for next time. We're overdue for some serious discussion on the primary developments here. Has Master Political Analyst Herr Ahm arrived yet?

Mr. Ham: I'll check. *ducks under table*

Herr Ahm: Guten tag.

Me: Well, fine.

Herr Ahm: This is ze epochal moment in Hamerican history, human! Ve are vitnessing a rare realignment event! Eet is like solar eclipse, only more significant and far less predictable! But for uninformed nincompoop like you, ve start simple!

First, some American History 101. Immediately after ejecting their Brit overlords in 1787, the Americans decided that they needed a President and not a King, and that Washington was it. As Providence would have it, the nation would continue expanding, mostly by some combination of kicking the natives off their land or swindling trading for it, and these holdings would be organized into states. This process started out from the original European colonies on the eastern seaboard, and note that by the time they reached the western shore, they had gotten so tired of the business that they dispensed with the artistic touches and just drew straight boundary lines.

Since proper Nations needed Politicians, the Americans set up a Congress, where they could discreetly shunt the most argumentative and least productive members of society, such that the rest could actually get some work done. However, since passing legislation in Congress was a game of numbers - or haranguing the other side until they gave up otherwise - canny Politicians soon organized themselves into Parties.

And, as it turned out, their system of elections would encourage a Two-Party System to form by Duverger's law, as there was seldom any reward for barely losing an election, at each level of government. However, the electorate is clearly not separable into two neat blocs, since an individual can be of any combination of race, age, wealth, education, belief, etc, each group with their own possibly conflicting interests; how, then, could they sort themselves into two parties?

To begin with, we observe that a party cannot be all things to all people - for example, it cannot possibly satisfy both a socialist who desires equal distribution of resources, and a libertarian who wants to be left alone. Each of these factions therefore ends up having to choose one party to commit to.

However, while attracting more and larger factions - and thus voters - makes it more likely that a party will win (and act for these factions), this also dilutes the influence of, and benefits accruing to, each faction within the party, and increases the likelihood of internal conflicts between the ideologies of the various factions. American political history, then, is a study of how these factions buddy up and live with each other. The full history can obviously fill up a textbook by itself, and so we skip straight to the current state of the Republican Party.

*unrolls chart*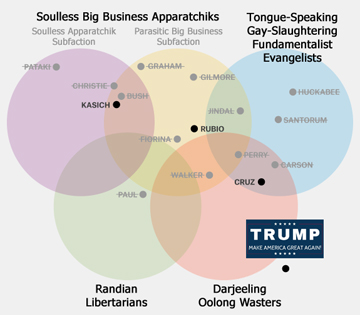 (Original source: fivethirtyeight.com)



As suggested here some time back, and confirmed by Silver, the modern Republican Party can be considered to have four main factions. Likely the most influential, and certainly the richest, come under the umbrella of Soulless Big Business Apparatchiks - in brief, they are after low taxes to increase profits to encourage rugged self-reliance, reduced regulations because who cares if some declining backwater town has its water poisoned since it's unprofitable due to the free market naturally enforcing self-policing, international trade to increase profits by outsourcing to Third World slave labour to benefit from comparative advantages, a strong military to increase profits for Big Arms contractors and protect Big Oil interests to safeguard freedom, but also bailouts to protect Big Finance profits to maintain the stability of the American economy.

And, as it happens, the top echelons of the Soulless Big Business Apparatchiks are overrepresented by powerful, old, white men - not that there's anything wrong with that. Technically, some of them are more towards the Soulless Apparatchik side, and others more on the Parasitic Big Business end, but the distinction usually isn't critical; as can be seen, the sadly departed Jeb! combines the virtues of the two subfactions, who are now perhaps best represented by the equally uninspiring Kasich in the election primaries.

Now, the Soulless Big Business Apparatchiks sure have heft - they also have quite a bit of representation in the Democratic Party, just to hedge their bets - but there's a teeny problem. Even including hopefuls that aren't powerful, old and white yet - but who could one day be - there aren't exactly many of them. Very inconveniently, elections remain one-person-one-vote. They needed serfs friends - where could they look?

A natural ally would be the Randian Libertarians, whose basic ideals can probably be summarized as "every man for himself". There aren't very many of them - note that only one candidate, Rand Paul, falls in this category - but given that many of their policies concur in practice with Big Business interests, why not? By the way, Rand's father Ron was the Bernie before Bernie, having attracted the latte-sipping college intelligentsia in previous cycles, to similar (in)effectiveness. Recall, Ron got screwed over on the convention floor during the last primaries, but it's not like they have anywhere else to defect to anyway, given the pointlessness of third parties.

While the libertarians might have added a much-needed sheen of scholarship to the party, they were pretty useless for making up the numbers. So, the Soulless Big Business Apparatchiks continued looking around back in the Sixties, and found the Tongue-Speaking Gay-Slaughtering Fundamentalist Evangelists. And this was great, because there were a lot of them down South. As an additional bonus, with the exception of a few megapastors, they were cheap to cultivate. You didn't actually have to give them much - just pay lip service to Christian values, and wink and nod about how it was better in the old days when the coloured peoples knew their place, and they'd loyally vote straight Republican.

As it turned out, this alone was enough to be competitive, and this combination more or less put Nixon, Reagan and the Bushes in the White House. Of course, one could wonder about the cognitive dissonance - Tongue-Speaking Gay-Slaughtering Fundamentalist Evangelist champion Ted Cruz, for instance, recently attacked TRUMP for not letting sick people die on the streets [!] - but strange bedfellows and all that.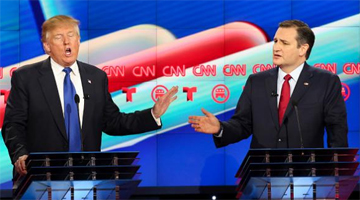 WWJD? He'd tell them to PAY UP, that's what!
(Source: slate.com)



One could imagine them not getting on very well with the libertarians, given that they're essentially after a theocratic police state - note that their circles do not intersect - but the Soulless Big Business Apparatchiks held the fragile union together with some pandering. Unfortunately, demographics were against this compact, with the white percentage of the population on a steady if gradual decline, and the Republicans attempted to inject some urgency in 2009 by sparking the formation of the Darjeeling Oolong Wasters movement... which has fanned some welcome enthusiasm, but at the cost of further eroding what remained of the party's core.

Despite that, the Soulless Big Business Apparatchik schemers realised that their financier-libertarian-racistpatriot base would eventually be hopelessly outnumbered. After some dispassionate calculation, they targeted the Hispanics as their new factional addition, in the same way that the Democrats had claimed the black vote. Maybe they were a little coloured, but at least they were largely God-fearin' too; it could work.

So the barefaced courtship began in earnest, as the Soulless Big Business Apparatchiks put up a smiling face and offered two carefully-packaged offerings: Jeb!, with his guacamole love-in and Mexican wife, and Rubio, all but marketed as the Latinobama. And of course, the darling of the Tongue-Speaking Gay-Slaughtering Fundamentalist Evangelist faction, Ted Cruz, was Hispanic too. The planned slow and gentle shift would be underway, and American Conservatism - and profits - would be secured for another generation...

Then TRUMP burst in, scuppered the outreach with his vow to construct a YUGE MEXICAN WALL, and left the Soulless Big Business Apparatchiks weeping into their trampled bouquet, with the future of their party now seemingly in tatters.

Me: A fair summary of the situation, methinks.

Herr Ahm: Ah, but wait! This is where the historic realignment comes in, and where we observe the MAD GENIUS of TRUMP.

*scribbles*

The conventional wisdom was that the Republican Party had to extend their coalition to new factions - become more inclusive, pick up more minority votes, inch towards the centre, while hoping not to lose too many existing members.

TRUMP's strategy, in contrast, is to expand their existing factions. In other words, instead of rushing about trying to fix the GOP's many weaknesses piecemeal, TRUMP is doubling down on their strengths - like it or not, the GOP was always about the betterment of WASPs; so, he figured, why be ashamed of this identity? Why not simply embrace it?

And so he spoke. And so they listened: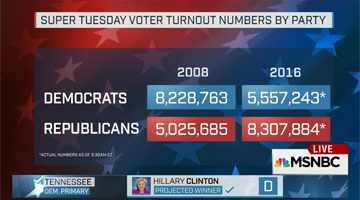 POWER TO THE PEOPLE!
(Source: imgur.com)




The War On The Establishment

"But why?" one could understandably ask. What is THE TRUMP's mysterious attraction, his primal charisma aside? One explanation - that has been coming for a long time - is that the GOP base has finally woken up to the fact that they have been cheated by the nominal party leadership. In particular, the Tongue-Speaking Gay-Slaughtering Fundamentalist Evangelists have finally realised that the Soulless Big Business Apparatchiks never actually gave a hamster's ass about religion, and that they were merely an easy source of votes, which explains how Ted Cruz is handily crushing both remaining Establishment candidates in Rubio and Kasich.

However, the Tongue-Speaking Gay-Slaughtering Fundamentalist Evangelist faction, while large, remains narrow, and more importantly, is on a decline. Which is where TRUMP comes in. Rather than trying to nickle-and-dime this tired constituency by pretending to be pious, TRUMP up and identified a new market: MIDDLE AMERICA.

Put yourself in the head of a typical American worker today. He's probably still white (near 80%), though this doesn't matter as much as one imagines. He's kinda average by definition, but that still entails hard work. Increasingly, shit is happening to him. The local mill closed, his minimum-wage service job barely pays the bills, college loans are killing him, he can't afford to move out of his parents' basement...

Unavoidably, he at some point will look back at a Golden Age - the 1950s, or even as recently as a couple of decades back, when a single breadwinner with a high school diploma could afford a house, a car, and a family - and wonder: what went wrong? And the kicker is, the primary narrative is that it is his fault. He watches as Social Security docks a chunk of his paycheck, towards a purported retirement he knows he'll likely never enjoy, even as he is chastised for not upgrading himself. Yeah, as if his US$100000 degree helped.

He realises that he doesn't have a voice. Republican, Democrat, they're two sides of the same coin - one that doesn't end up in his pocket. He knows full well that his local representative doesn't really care about some underemployed loser dialing in from a Bumsville shack. Nobody cares.

And then, TRUMP: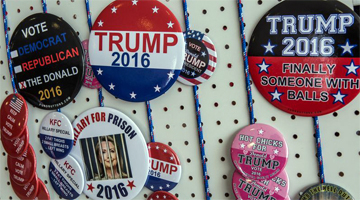 Button up, the train is leaving the station!
(Source: vox.com)



TRUMP actually stood up and assured him, that it was not his fault. TRUMP understands the difficulties that he faces. TRUMP knows that he has given a lot, but gotten little in return. And PRESIDENT TRUMP will fix it. PRESIDENT TRUMP will be GREEDY FOR AMERICA. Not Unamerican Socialist-Greedy, but Make-America-Great-Again-Greedy. He will TAKE it from OUTSIDE. He will BRING THE JOBS BACK FROM CHINA.

And, thing is, he's right. He can do it.

Yes, our hypothetical American worker recognizes, the theory is that it won't happen because these jobs are lower-skill, and that it would cause prices to increase. He did take Intro to Econ. But, he figures, isn't that a net gain for him, and others like him? So China loses out, but who cares about them? Oh, and the Soulless Big Business Apparatchiks also finally lose out, after decades of seeing their pay increase dozens of times faster than ordinary workers... something clicks.

Trade war, so? AMERICA WINS. It's what AMERICA DOES. And nobody has the BALLS to do it, but PRESIDENT TRUMP.

Me: TRUMP does have a point here, going by how Disney has been exploiting H1-B visas to replace their IT personnel with cheap foreigners, and to rub salt in the wound, are forcing the locals to train their replacements... which, come to think of it, has direct parallels in Singapore. In fact, TRUMP has clarified his position on immigration, which is to retain only the best and the brightest applicants, and not entry level PMETs - which is exactly what EDMW etc have been trying to get through to our floodgate-opening government for eons.

Herr Ahm: Vell, to be fair, America ees velly different proposition from Singapore. Domestic market size, for one.

Me: Yeah, I actually visualize it as a rising tide of automation creeping up on all countries at once, with countries still largely stuck with blaming each other. But, I suppose the global association of Soulless Big Business Apparatchiks doesn't see the net benefit in universal basic income just yet.

But doesn't that sound like a Bernie position? Well, to be frank, however much Berniebros might want to disavow it, the roots of their support share plenty in common with TRUMP: Anti-establishmentarianism, or a desire to Stick It to The Man.

Herr Ahm: Difference is, there's a little of a sad-sack loserish vibe going on with one of the sides: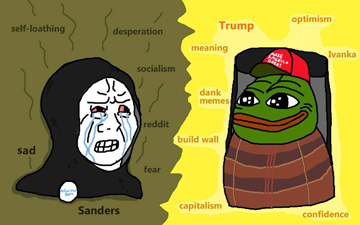 Head-on comparison
(Source: imgur.com)



Me: Meh, the constant pleas for donations for the Socialist Uncle are getting kinda distressing, with his deluded fans pledging money that they don't have, even as they steal TRUMP signs while irrationally shouting down TRUMP supporters. Then again, Bernie is wasting their hard-earned cash preaching to the choir, so as one wise commentator has observed, they should get a valuable life lesson out of this.


The War On Cash

And, with the very public political drama going on overhead, it is easy to miss a concurrent lower-profile, but no less telling, theatre of battle: the one on cash.

Recall the recent push towards negative interest rates? Well, one simple reason why many economists had not seriously considered it as a policy, was that there was a foolproof method for consumers to avoid it: simply stash one's money in physical form, typically at home. And this is exactly what the Japanese are doing, as they stock up on large denomination banknotes and personal safes.

Still, this hasn't stopped central banks from trying, with the U.S. Treasury floating the idea of discontinuing the US$100 bill, and Europe moving in the same direction. Sweden for one is heading towards eliminating cash altogether. In some sense, this is a natural development from fiat currency - if you can conjure up money from thin air, why bother to print it?

Of course, while a fiat system probably can work, there is no particular assurance that it will work, especially when controlled by imperfect gatekeepers, and in practice certain preferred parties - think Soulless Big Business Apparatchiks - have tended to get first bite of the cherry. In a way, e-cash is the dream scenario for central bankers: you have too much? Why, we just take it! And, before you scoff that this can't happen, consider what negative interest rates actually mean.

This topic can be connected back to the TRUMP phenomenon, by way of debt. The layman overview is that societies have become accustomed to perpetual growth. Thus, each generation strives to claim "its fair share" of production, because nobody likes to be bilked. However, a significant portion of these claims are on the future - today's pension promises are negotiated based on theoretical projections.

For a long time, this more or less worked - net population growth, many youngsters supporting each old geezer, select Soulless Big Business Apparatchiks skimmed some cream off the top, nobody minded too much. However, as reality informs us, population growth will soon - or has already - become flat or negative in many developed countries. Sure, those in charge well know this, but they know it in much the same way as a plump guy knew that hamburgers will make him fat, but gobbled them down anyway because, well, tomorrow.

Which, in turn, makes property prices particularly hard to swallow. On one hand, with rents and mortgages increasing so much faster than real income, newcomers are justly curious as to why, with all these productivity improvements, they are shelling out far more years of work than their fathers' generation, for the same - or a smaller - house. On the other hand, they are looking around, and spying far fewer children who will buy over these houses in the future. In many places, the supply and demand equation simply doesn't add up.

One intuitive explanation, then, is that real estate has become a proxy for pensions; rising property prices naturally soothe the older generations, by representing a "nest egg". Even more attractively for governments, they directly reward responsible citizens who "invested" in the country. Moreover, quite uniquely, it is an asset that cannot be repatriated, and therefore comprises a country's "base value". Especially in places with few alternative avenues for investment - think China - real estate further acts as a store of value.

But, as often painfully pointed out here, property ultimately retains links to the real world - mortgages can rise to beyond what the man in the street can reasonably afford, even if he buys into the tale that property prices will increase perpetually. And yet, he still has to live somewhere. At the same time, current owners are not prepared to stomach a fall in prices, because they have paid their dues. With the two sides' needs becoming increasingly incompatible, is it any wonder why assetholders are engaged in financial innovation to protect their wealth, before the shit inevitably hits the fan?

Which brings us full circle to the TRUMP-Bernie hype. Truthfully, for all the scare-mongering, it's not about race. It's about economics, the self-same economics that both sides of the political divide have been wilfully turning a blind eye to.


The War Plan, And Some Ending Digressions

Herr Ahm: Hmph. Passably convincing, I suppose. But I ham Master Political Analyst, so we get back on track, yes?

So, it seems that Ted Cruz is plotting to kick Marco Rubio out of his home turf of Florida, which if you think for a moment, makes perfect sense. The Establishment attempted to recruit him into their strategy to deny TRUMP a majority of the delegates, but frankly, there's nothing in it for Cruz. Assuming it succeeds, he knows that they won't choose him as their Presidential candidate anyhow, and he understandably isn't eager to play second fiddle to someone he beat on votes.

This line of thought appears bolstered by his relatively strong showings in Kansas and Maine - the idea is that as and when Rubio and Kasich drop out, his positions will be closer to theirs than TRUMP is, and he will therefore be able to beat TRUMP in a one-on-one race.

However, there are a few problems. First off, it is unclear if The Establishment actually even prefers him to TRUMP - Cruz's unpopularity with his colleagues is quite legendary, and Mitt Romney's recruiting of Cruz into his #NeverTrump cabal always smelt of convenience more than anything, much like the deal with the whole Tongue-Speaking Gay-Slaughtering Fundamentalist Evangelist faction.

Secondly, the fact is that all signs point to this being the high point of Cruz's campaign. Cruz was always predicted to outperform in two situations: in states with a high proportion of Tongue-Speaking Gay-Slaughtering Fundamentalist Evangelists, for obvious reasons, and in states with closed caucuses, where only registered Republicans have the privilege of standing around for hours waiting for their vote to be acknowledged. This eliminates TRUMP's considerable crossover votes, and additionally possibly discourages TRUMP supporters from declaring due to peer pressure.

All evidence then suggests that Cruz is a spent force. Ten of the fourteen GOP caucuses are over, and the four remaining ones account for very few delegates. Plus, most of the Tongue-Speaking Gay-Slaughtering Fundamentalist Evangelist states actually already went for TRUMP over Cruz. Cruz's victories in Iowa, Texas and Kansas are more or less in line with how previous Tongue-Speaking Gay-Slaughtering Fundamentalist Evangelist candidates performed, and they never came close to the nomination at the end.

Thirdly, it is extremely unclear if Rubio and Kasich's voters will migrate to Cruz over TRUMP. If only one of them drops - which seems very likely given that The Establishment would strongly prefer either one to TRUMP or Cruz - then it seems probable that the Rubio/Kasich votes would simply consolidate... and the status quo would effectively remain unchanged.



We are all TRUMP now!
(Source: bostonherald.com)



Me: So, TRUMP remains overwhelming favourite?

Herr Ahm: Undoubtedly. Hey, even the dick thing had plenty of precedent. Quite a few respected presidents were known to be proud of their big wee-wees, and let's face it, the Founding Fathers were definitely no squares themselves. Given how TRUMP is a master of manipulating his image, I'm unsure if the proclamation was not in fact planned out.

*whispers* And, just between you and me, do you believe that a guy with a small dong is cut out for the job?

Me: Er, moving on. By the way, TRUMP should get on just fine with the Singaporean incumbents, given how he's all for libel laws to sue those who make irresponsible statements on him. Coincidentally, Singapore may hold yet more case studies for the US, with Bill Clinton caught inside a polling place in Boston. And as it turns out, he's probably using the very same dodge. That's being a world-class legal hub for you, folks.

The libel thing will probably also go down well with China - see, TRUMP is already building bridges - who are now banning "gay people, adultery, one night stands, cleavage and reincarnation" on television. I'd like to say Hillary would be less acceptable on this, but then again, the likely Democratic nominee was also against gay marriage until it became politically expedient to switch over in 2013...

Not to be left out, our local chapter of Cruz groupies has badgered for Madonna's concert to be toned down. Wonder where they were when China Wine was all the rage... oh yes, professional courtesy. And finally, the biggest shock of the week - SPH has apologized to a former The Real Singapore editor, for defamation. Will wonders never cease?

Herr Ahm: Well, time's up. Plenty to keep all of us occupied up to November, by the looks of it. Ta-ta!







Next: Reading Moves





Related Posts: