Sunday, May 08, 2016 - 19:10 SGT
Posted By: Gilbert





Men Against The Machine




"When your enemies defy you, you must serve them steel and fire. When they go to their knees, however, you must help them back to their feet.
Elsewise no man will ever bend the knee to you."

- Tywin Lannister





"Ted Cruz, I don't know if he likes me or if he doesn't like me, but he is one hell of a competitor. He is a tough, smart guy*. And he has got an amazing future."

- TRUMP, BASED Indiana victory speech
[*we assume that he's indeed human by courtesy,
in the absence of definitive evidence to the contrary]



So, who could have imagined that resorting to overt rules-lawyering to negate the popular vote, and having the gall to pick a "vice-president" after being mathematically eliminated from the nomination - in what was probably the most cringeworthily-calculated and chemistry-free political betrothal of convenience since the US of A ejected the British monarchy - could have turned out well for Ted Cruz? Fiorina fittingly sang what was in retrospect a funeral dirge on the consummation, and her new pardner reciprocated by ignoring her after She, The Mistress of Demon Sheep, fell off the stage.

It didn't even take a week for Cruz's already-soiled brand to get flushed down the toilet, as TRUMP's soared in parallel. Indiana, the last stand of Cruz and #NeverTrump, duly went for TRUMP in a straight majority, and Cruz realised that not even he could keep the con going any longer; in the first enlightened decision that he had made for months, Cruz folded his campaign, and somehow still managed to sear in the definitive image of his concession as that of elbowing his wife in the face. Just as well that Fiorina is an old hand at layoffs...

[N.B. Sometime about then, Kasich apparently paused his free food tour for long enough to realise that he had forgotten to drop out; the Governor has promptly rectified the oversight.]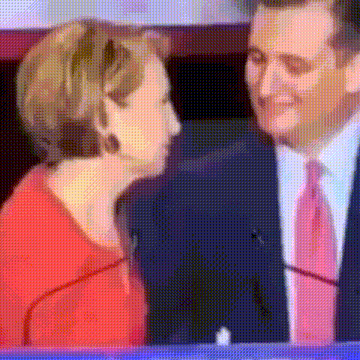 The infernal battle for hand dominance has begun!
(Source: i.sli.mg)



And there Cruz sat, utterly defeated, amongst the ashes of his ambitions - earth scorched, ground salted, bridges burnt - in a state of catatonic disbelief; we are not privy to the details of his internal tumult, but from what is well-known about his professed beliefs, it might not have been far from: My Father, my Father, was I not the Anointed King? My Father, my Father, why hast thou forsaken me? Eli, Eli, lama sabachthani?

And, we imagine, the heavens cleared, and the TRUMP-ETS of the host rang, and the rapture and the glory came upon him; and, so it was said, in the depths of his trembling existential despair, he beheld a great and incomparable voice promising of triumph unending. Yet still the faithless prodigal questioned, and lo and behold, the memory of the covenant of the burning Bushes was set before his mind; and he looked up, and beheld the YUGE HAND of the GOD-EMPEROR, outreached in pristine mercy, cloaked in an aura of peerless magnanimity.

"SER CRUZ, TAKE MY YUGE HAND." the Voice said. "HARD AND WELL THOU HAST FOUGHT, GALLANT CRUZ, BUT IT IS NOT I WHO ART YOUR MORTAL ENEMY. YOUR FORMER FALSEHOODS AND BLASPHEMY I FORGIVE, SER CRUZ, FOR IT WAS SPEWED IN THE HEAT OF BATTLE, AND NO PROPER MAN NOR EMPEROR BEGRUDGES THE RIGHT AND DUE OF A WARRIOR.

BUT THE TIME OF OUR ENMITY IS OVER, AND A FOUL AND GROWING DARKNESS RISES FROM THE SINISTER LEFT; HILLARY THE CROOKED, MOTHER OF PORK-BARREL POLITICS AND THE ABOMINATIONS OF WALL STREET, HAST BEGUILED THE PEOPLES OF THE WEST. AND SHE CLAIMS *MY* CITY, NEW YORK OF AMERICA THE GREAT, CAPITAL OF THIS FALLEN WORLD, THAT REIGNS OVER THE KINGS OF THE EARTH.

TAKE MY YUGE HAND, SER CRUZ, AND JOIN THE KNIGHTS OF THE NEW RIGHT! SIT AND MAKE CAUSE WITH SER CHRISTIE AND SER CARSON, EXALTED PALADINS OF THE ORDER OF THE ORANGE! FROM SHORE TO SHINING SHORE, THEY HEARKEN TO MY CALL; SER PERRY, SER WALKER, SER JINDAL, THEY FLOCK TO MY SIDE. FROM THE FROZEN NORTH, SER GILMORE RALLIES; AND FROM THE TEMPLE OF THE TORCH, PROTECTOR OF THE FLAME, SER PAUL THE PURE, MY GALAHAD!"

And what transpired, we can only guess at, for not all that passes upon this sorry coil is meant to be known by the ken of Men; but - some few whispered, in corners bare except to those who seek, lest they be mocked - there manifested a blinding light to rival the very Sun, and the Voice concluded:

"BEHOLD, UPON MY RIGHT HAND, FOREMOST AMONGST THE STARS OF THE FIRMAMENT, ONE OF YOUR CLOSEST COMRADES IN ARMS, SER MARCO LATINO RUBIO! ONCE AN IMPLACABLE FOE, NOW THE DEAREST OF MY ALLIES!"

Some say the Lost One repented then, and found redemption; others say he remained defiant to the last, and was cast into the Outer Void of Political Irrelevance, to freeze in the biting chill of voter indifference together with Romney and the Bushes, and have crushed Cheetos rubbed into his face for all Eternity. But, either way, his fate is sundered from that of the realm, for Destiny had chosen another; so, here Cruz's story fades, lamented only by the requiem of the choir of the Host:



"BUILD THE WALL! BUILD THE WALL! BUILD THE WALL!"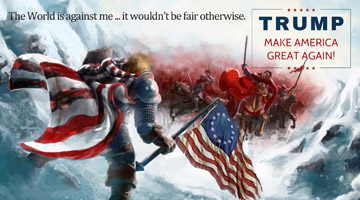 Mayhaps we add in Eurabia, to even the odds a bit?
(Source: i.sli.mg)



Ahem.

Okay, you want my serious take? Well, the polemics begin with one word: deserve. TRUMP deserved his win, the GOP definitely deserved it, America deserved it. And I don't say that in a belittling looks-down-one's-nose manner, as comes so naturally to the modern liberal gentility; I sincerely mean it in a "it was for the best" manner, in a "the pendulum swings" manner, in a "TRUMP represents very real concerns that should long have been confronted head-on" manner.

Before continuing, one should first recognize the enormity of what The Donald has achieved: running, at every step hobbled by the GOP's apparatus, with zero institutional backing and next to no outside funding, he defeated - first in clumps, and then one by one, what many self-styled experts had held as the strongest Republican field in decades. Not a single congressman had his back for months, the mainstream media cartel gleefully casted him in the worst possible light...

And TRUMP did it. He beat them all.

Oh, you'll hear plenty of whining and excuses from all sides of the orthodox political spectrum: TRUMP had too many opponents. TRUMP had too few opponents. He got too much free media coverage. The media didn't slam him hard enough. Party insiders didn't take him seriously. They should have dismissed him as a clown. The primaries didn't reflect the will of the electorate. They should have followed the Democrats and instituted more unelected superdelegates.

The unavoidable truth, however, is that it was never close. TRUMP won against many, he won against few; he won when the media played up his "gaffes"; he won without any endorsements, and with them; he won with Appalachian hillbillies and New Englander Yankees. He led the GOP polling uninterrupted since last July, and led from start to finish in official delegate count. And, after all of this, you have self-appointed gatekeeper Paul Ryan grouching that he couldn't back TRUMP yet because "...[TRUMP] inherits something very special... the party of Lincoln and Reagan and Jack Kemp."

Well, as tends to be the case when one goes against TRUMP, Ryan's wrong on both counts. As TRUMP immediately pointed out, he inherited nuthin'. If Bush III had somehow managed to get the nomination foisted upon him, he'd have inherited it, but not TRUMP. TRUMP won it, inch by inch, fair and square. And, secondly, according to the GOP's own membership, it isn't the party of Lincoln or Reagan or Ryan, not any longer.

It is the Party of TRUMP.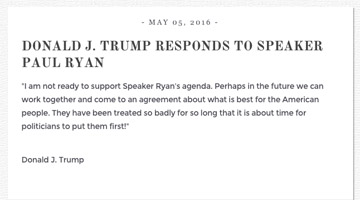 THE TRUMP REJECTS YOUR REJECTION.
[N.B. Bonus Paul Ryan Rage Against The Machine burn]
(Sources: vox.com, original copy)



The bias of the media - and the online thought-bubble that is the bulk of Reddit - has only become more apparent with TRUMP's ascension, as they continue blindly focusing on the negatives of TRUMP's campaign. Case in point, freaking out over a few has-beens such as Romney, Graham and the Bush clan holding out, due to being butthurt sore losers, and ignoring that the mass of the party has already quietly shuffled over to the rightful nominee and President 45, TRUMP. Note, this includes Bob Dole and Dick Cheney, whom everyone knows was the real brains behind George II's regime, anyway.

And, lest it be forgotten, these were the very establishment puppets who doubtless thought they were being very smart, when they enacted a "loyalty pledge" to unify behind the eventual nominee, and forestall a third-party run, last September. And today - seldom has Jackson's turn of phrase been more apropos - this den of vipers and thieves are forswearing themselves, before the year is out!

But, it doesn't matter in the end. For, you see, TRUMP is a businessman; he is a master negotiator, who literally wrote the manual on the subject. And, above all, the GOD-EMPEROR is an alpha-tier reality warper. In the wake of his may-mays, all things are possible. Hillary having SecState experience, hobnobbed with foreign leaders, blah blah blah? Guess who's warming ties with Russia even before getting on the Federal payroll? Who's engaging the Chinese foreign ministry?

Moving further West, guess who's loved in Israel, even as the Democrats' spineless Trigglypuff faction agonizes over how to appease Islam and feminism simultaneously? Guess who's exposing the hypocrisy of the Saudis, who're actually moaning about the United States not allowing people in, when they - let's not even bring Israel in here - are shutting out Syrians themselves? Oh, and guess who just got invited by a former Mexican president, to discuss the small matter of a wall?




But you're a honest dealer, I appreciate that, Mr. Fox.
Tell you what, 10% off, *and* I'll throw in a TRUMP resort in Cancún!




Not Hillary, that's who. Even as the media try to manipulate public opinion with cherry-picked observations such as "TRUMP only has a plurality of Republicans", guess who's at 53% within his party? And who's at a massive... 52% within her party? Mind, this is with the full and total rigging of the Democratic Establishment, from way before the first primary vote was cast, and effectively against but a single opponent; moreover, an opponent who wasn't even a Democrat until last November, and who's a frail, rape-fantasy-penning agnostic socialist Jew. You'd struggle to assemble a candidate more antithetical to the American psyche... and she's struggling to put him away.

Oh, so many of the intelligentsia remain cocksure. TRUMP has no route to 270, they say - do I sense a faint tremor in their voices? - grabbing at every scrap of polling evidence that floats their way, while selectively ignoring the stickers plastered all over warning that it doesn't mean anything yet. Case in point, FiveThirtyEight's continuing to run scare screeds harping on TRUMP's "historic unfavourability ratings", while neglecting to delve into how Mondale, Dukakis, Dole, Kerry, McCain and Romney all had lower "strong unfavourables" than their opponents for POTUS... what's that? They all lost?

They don't even pretend to learn, do they?

I mean, you've got "the polls" suggesting that John bleepin' Kasich has a seven-point aggregate lead over Hillary in the general election! Yes, we have just seen how terrible a candidate Hillary is, but this is one-for-forty-seven Kasich! A Kasich that topped out at a generous 19% within his own party, while being the only candidate that his party elders actually liked, for the past two months!

I don't know about you, but to me, that's like looking at a thermostat and reading 245; weighing the state of not being dead against those figures, I'd personally figure that, well, maybe the scale's not exactly accurate, just quite yet.



THE SHITLORD! THE MAGNIFICENT, MAGNIFICENT BASTARD!
[N.B. Yes, He loves you, too!
(P.S. the best taco bowls are made in Trump Tower Grill)]
(Sources: reddit.com, the original legendary 100k-fav tweet)



There will be time enough for all the nitty-gritty justifications, my friends, so let me just put it out, in unambiguous terms: to my greatest regret, I am ineligible to vote for TRUMP. Yes, I readily confess: I bought into the Obama hype in 2008 - who didn't? Yes, were I an American, I'd probably be the stereotypical independent-learning-Democrat, which in practice probably means going for the blue ticket nine times out of ten, at all levels of governance.

However, TRUMP the GOD-EMPEROR is an exception. He is one-of-a-kind, gentlemen. Were I to live another ten lifetimes, I might not see his like again. He is the dankest High King of Trolls to ever walk this Sad! earth. Had Singapore allowed dual citizenship, I'd long have put in my green card application, solely to cast my ballot for TRUMP. Verily, there is no POTUS but TRUMP, and Pepe is his messenger. TEN FEET HIGHER!


Bukit Batok Speaks†
†with upgrading carrot firmly poked into its back

Herr Ahm: In full agreement with you on this one, human; have you seen His Himperial Majesty's latest tweet? Why, I...

Me: Not this time, Herr Ahm. I doubt there's anything, in this world or the next, to top this one: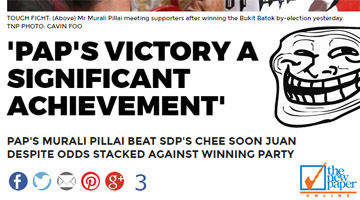 (we're speechless)
(Original source: tnp.sg)



Herr Ahm: I... I... I bend my knee to the new master.

Me: Don't feel too bad about it, I never knew our newspapers were capable of such off-the-charts brilliant shitposting, either; I mean, it was the same boilerplate toadying pro-forma propaganda for years. Perhaps there's hope for our moribund journalism industry, after all...

As for your prediction, the final count was 61.2% for the PAP's Pillai, a fraction below the 62-to-68% range that you had set out. Not too bad, all considered.

Herr Ahm: The main thrust of our analysis was accurate, I gather; Bukit Batok was simply too strongly pro-incumbent to begin with. In fact, Dr. Chee more or less duplicated the 12% swing that Lee Li Lian got in Punggol East, but as forewarned, it was far from sufficient.

Me: Yeah, the SDP deserves a pat on the back for this. If TRUMP's anti-machine heroics in America were the equivalent of standing before a speeding car, the local opposition's facing an M1 Abrams main battle tank... and not only that, a main battle tank that can sue your body armour off you.

Herr Ahm: Since I gather that the obvious allusion's less than accidental, the Ancestral Motherland is demanding that overseas Chinese pledge fealty to them. Historically, this is not exactly an auspicious sign, what more given that they seem set on kicking cans until the road ends.

And, get this, they're also turning to automation. What are half a billion surplus workers expected to do, then? Sell stocks online? How much innovation does that admit, I wonder?

Me: Returning to the Bukit Batok by-election. Recall, it was due to another of the incumbents' MPs getting up to their usual naughty heh-heh, which allowed Dr. Chee the opportunity to showcase his considerable oratorical skills. Unfortunately for him, 2008 Obama himself - turned Chinese - would probably still have lost this one, due to the characteristic dynamics of Singaporean grassroots politics:



Dr. Chee: *appeal to better nature* *human rights* *spirit of democracy* *cultural renaissance* *electoral reform* *check on government* *full-time dedication*

Random incumbent representative: There is a S$24 million upgrading plan for the estate in the pipeline.

Dr. Chee & other opposition: Are you effectively dangling general taxpayer money as a voting incentive?!

Random incumbent representative: No, I am just saying that there is a S$24 million upgrading plan in place. *leans forward* This is a nice estate we've got here. Very nice estate. It would be a right shame if it weren't upgraded and became a slum, you get my drift. Very bad for property values. *shakes head* What a waste. All that CPF money, gone poof. *snaps fingers dramatically* All I'm sayin' is that there are other estates, get me? Co-operative estates. Obedient estates. Estates that know what's good for them.

Well, fellows, you've got two weeks to think about my offer. But really, this is a beautiful place. Oh, and we know where you live - here, of course! Ha-ha! Think about it.

Dr. Chee: ...

Result: Incumbent wins, 61-39.



Herr Ahm: Eh, at least you're not as crass as the other places, where they hand out brown envelopes; here, it's all digital! I take back what I said about the Smart Nation initiative. Anyway, if it's any consolation, a couple more sex scandals might do it.

Me: By the way, the mainstream media appears to have conveniently omitted to mention that Pillai's win represents yet more direct proof that race is not a significant factor in local elections, and thus that the GRC system has long outlived its stated mandate for being. Instead, we're hearing increasingly-convoluted proposals to ensure minority Presidents; one has to suspect that the ploy here is basically to wear the audience out with reams of unnecessarily-complicated stipulations, until the oh-so-simple expediency of abolishing the popular vote and getting Parliament to appoint sounds downright palatable.



Random incumbent representative: *pops back in* We tried very hard, citizen. We really tried. To find a way to guarantee minority representation. But there was just no way, you understand. *shakes head sadly* We had hearings and everything. We considered all the factors holistically, what's best for all of us. You aren't racist or xenophobic, I hope, citizen? That's great, because then I don't see why you'd disagree with us withdrawing your right to vote for the head of state. Thank you for your kind cooperation.



And this, you understand, is why I admire TRUMP.

Herr Ahm: A few finishing comments here - sadly for Dr. Chee, he remains saddled with an image problem. Dr. Lee Wei Ling confirming her disapproval might have been expected, but when you've got Famous Amos badmouthing you, it's a sad reminder of how fractured the opposition scene is.

Tellingly, Dr. Chee and the SDP appear to have embraced the TRUMPIAN fever to restrict immigration that is sweeping the developed world, but in fairness, they have long highlighted the obvious flaws in the incumbent population policy (i.e. More! More!). And, contrary to what The State's Times etc might have you believe, they do have the details, such as on how allowing the use of CPF for HDB mortgages very likely led to spiralling public housing prices, among other systematic shortcomings. But, eh, drown 'em in the details, and, also, uppppgrrraaaddddiiinnnggg...


Sat Or Dud?

And now, for our third and last Man against The Machine for the day - Dr. Craig Steven Wright, or as he would have you know him as, Satoshi Nakamoto, Creator of Bitcoin.

If you've been paying attention, you might have realised that this is not the first time Dr. Wright's tried to pull this off. H.L. Ham's January AGM covered his prior abortive attempt last December, which fizzled out with nary a trace.

Then, out of nowhere, a sensation - On the second of May, the BBC and The Economist ran concurrent scoops announcing that Dr. Wright could very well be Satoshi. Granted, they didn't commit outright, but the names of the British Broadcasting Corporation and The Economist do still hold some weight, in this day; they wouldn't lend credence to highly-dubious claims like the common run of tabloid rags, would they?

I trusted so. How wrong I was.

The swindle wasn't even that slick. Now, any dabbler with even a passing technical interest in Bitcoin would have recognized that there is a very simple method of identity proof; it is one of the cornerstones and motivations of the basic public key cryptography that underpins blockchain systems. Simply put, there are a number of known public addresses - such as that associated with the first (a.k.a. "Genesis") Bitcoin block, that can reasonably be assumed to belong to the Satoshi. All that is required to prove Satoshihood - or at least, possession of his keys - would be to sign a message that can be decrypted with the public address (key).

That's it. One minute, two, tops. So, what did our precious Dr. Wright do?

Step one: he flew the chief scientist at the Bitcoin Foundation, Gavin Andresen, out to meet him. One could wonder at this point - could he not simply have emailed a signed message, to exactly the same purpose? But no, the Chief Scientist deserves better. And then, Dr. Wright had a trusted assistant produce a factory-sealed Windows laptop (you're welcome to inspect the seal, folks!), on which he personally signed the requested message with the Genesis block address (any message you want, sir, and abracadabra!)

No, Mr. Andresen was not allowed to keep any of the props.




Artist's impression of what happened.
(Source: reddit.com)



While Mr. Andresen - and one of the founding directors of the Bitcoin Foundation, Mr. Jon Matonis - were apparently taken in by Dr. Wright's sleight-of-key and personable good looks, the uncultured denizens of r/bitcoin and bitcointalk.org were far more circumspect, and a cursory investigation uncovered loophole upon loophole. Dr. Wright, as it happened, had put up a blog that led off with profundities by Sartre, before mixing philosophical musings into an entry-level tutorial on key verification. One imagines that the intended audience would be expected to be familiar with this procedure, but fine, maybe Satoshi's just being thoughtful and considerate...

Then, the given "magic proof" string turned out to be just the signature of a public transaction to begin with.

I mean, this itself didn't make sense - if he had wanted to keep reasonable doubt going for at least a while longer, he could have just made up a random string. Okay, there might yet be an explanati... why the heck does his script have variable names misspelt?!

Given that Dr. Wright's record - already under suspicion since his previous outing - could only charitably be described as having more red flags than a PLA rally at Tiananmen Square, various notable figures in the crypto arena felt free to air their doubts; Buterin cast basic common sense into signalling theory, Charlie Lee demonstrated how to construct a proper proof with Litecoin, and the rabble did what they do best.

The breathtaking part of this story, however, was how pointless trying to "beat the machine" was - if Dr. Wright had Satoshi's keys, he could have produced incontrovertible proof in seconds, and if he didn't, he would not have been able to do so in a million years. Faced with this plain logic, most con artists would not even have begun with the first part, or minimally have begun with a relatively plausible premise such as "I'm Satoshi, but the evil CIA hacked my keys".

Not our Dr. Wright, though. After reiterating that he went to the BBC and plumped for worldwide exposure because he "just wanted to be left alone", and abruptly developing the habit of typing double spaces after somebody brought this bit of Satoshi trivia up, the Fantastic Dr. Wright waved his hands and agreed that "extraordinary claims require extraordinary proof", and pledged to post "...a series of pieces that will lay the foundations for this extraordinary claim [over the coming days, including]... transferring Bitcoin from an early block".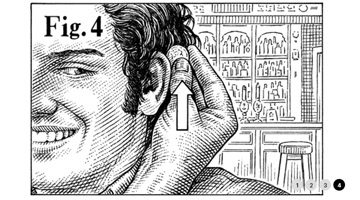 ...and the Bitcoin was behind your ear all along!
(Source: shortlist.com)



Very understandably, the audience was growing restive, given that he could have provided all the necessary proof ten times over in the time he took to type out that blog post, and our wannabe Stupendous Satoshi took it as a cue to disappear backstage, to make the necessary preparations. A day later, all his previous blog posts had indeed vanished, leaving a baffling apology that explained in so many words that, after a week of trying his damnedest to hoodwink the community, he realised that he didn't have the courage to try, after all.

Huh?

But wait, it's not quite over yet. For his parting trick, the Fantastic Dr. Wright had convinced Andresen, Matonis and the BBC, to send to the Bitcoin address used in the first ever transaction, the equivalent of five British pounds in Bitcoin; and then, after leaving them on the hook for eighteen hours - during which they were by all accounts buzzing with anticipation at being involved in the public coming-out of Satoshi Nakamoto - the Fantastic Dr. Wright quietly posted his apology and disapparated himself, leaving behind a string of broken hearts. And, obviously, the BBC and company never got their Bitcoin back. You really can't make this shit up.

So, dear readers, the third entrant for Troll of the Year, after GOD-EMPEROR TRUMP and The New Paper: Dr. Craig Wright.



bike trails



We'll allow the voting to go on in the background, while we briefly consider - what the f**k? Did Dr. Wright sincerely think that he could get away with this? There must be some next-level motive behind it, right? Incredibly, there exists no particularly convincing conspiracy theory that I'm aware of.

Still, there are a few lessons that might be taken from this, foremost being that Bitcoin's motivations are solid. As Andreas Antonopoulos succinctly reminded, the entire rationale behind Bitcoin was to eliminate dependency on appeals to authority in the first place. The true Satoshi must have known that.

And the second lesson? Well, I'd say that it would be: if one plans on running a scam, it pays to pick your marks with care. Dr. Wright required the backing of personages with a certain status in the Bitcoin space, for his purposes. However, many - probably most - available candidates would have recognized Antonopoulos' watertight logic, and rejected his offer; Buterin, Lee, theymos etc gave every indication they would have.

But Andresen? Here, one can at least smell possible motive. Recall, Andresen had been promoting alternative Bitcoin implementations such as XT and Classic, as a "big blocker" - indeed, one of the most prominent ones - arguing to raise the 1MB blocksize limit ASAP. As can readily be observed, these efforts have mostly met with crushing failure. It is not hard to imagine Andresen - and fellow big-blockian Matonis - then wanting to believe that Dr. Wright was in fact Satoshi, because who better to promote the merits of their viewpoint, than the original creator of Bitcoin himself? Dr. Wright, for his part, was only too happy to play along. It's easiest to hypnotize the willing, and Matonis for one doesn't seem to want to wake up.

Anyway, life goes on in cryptoland, with Andresen's commit access to Core now revoked (and not wholly without cause, after exhibiting staggeringly poor judgment). Attention returns to the MIT ChainAnchor team's questionable proposal to add KYC to bitcoin mining (Antonopoulos: Bitcoin: signal. KYC/AML: noise.) And hey, remember TRUMP promising to make the Mexicans pay for the wall, out of their remittance money? What alternative might that benefit, I wonder...







Next: 7 Reasons Why TRUMP Will Be The Next POTUS





Related Posts: