Wednesday, Nov 24, 2021 - 22:26 SGT
Posted By: Gilbert





Farewell My Condorental


It had to come someday, and the lease for the apartment where I've been bunking these four years and a bit, has finally run out. The owner has declined to extend it, probably due to looking to sell up - and looking at the prices nowadays, who can blame him? Similar one-bedders around 340 square feet are going for well over S$600k, with the latest transactions for units about this size in the same building touching S$1.7k per square foot. Meanwhile, monthly rentals have jumped from somewhat under S$2,000 to around S$2,400 over the past months. Well, seeing as Powell has just been reappointed and seems to be finally throwing hints about tackling inflation, we will see how it goes.

I've arranged a bridging rental some way down the corridor, while the renovation for my long-term home gets completed over the next few months (one hopes), but I can't deny some sentiment at having spent some fairly good times here. Well, since I recall having apparently failed some unspoken etiquette when photographing a friend's place when he kindly hosted a bunch of us about a decade back - I didn't realise, since I generally have no hang-ups about such - here's some pics:

First, stepping in front the main door, there's a small IKEA BILLY bookcase (will be seeing a few more of these), and the bomb shelter/storeroom to the right. Trash such as takeout gets deposited about here for the day, pending removal.



View From Entrance




And turning slightly to the left, we have the living room turned bedroom, with the aforementioned folding sofa bed, in its natural state. Honestly can't complain too much about the bed's condition, given that it wasn't all that expensive (ordered off Taobao or somesuch), and was probably never meant for extended use as an actual bed. There's another BILLY bookshelf behind it (also hosting a projector), a laundry basket in the corner, and a HOLMÖ floor lamp that I had tried to keep unbusted for as long as possible (but that eventually got torn near the base). Then there's the lift-top coffee table with internal storage that has long gone over capacity; witness the overflow on top of it. Finally, another cheap mini-sofa in the far corner, more to fill up the space than anything.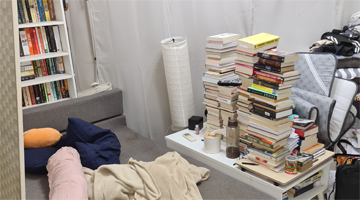 The Living-turned-Bedroom




Here's the pile looking from my usual resting position. This probably doesn't strictly qualify as a tsundoku, since I've at least scanned through perhaps the majority of these (but no quizzing on the contents without prep)



Jenga!
[Expanded]



The bedroom itself has become a study; that's an IKEA MALM desk that I've grown quite fond of, another BILLY, and a self-assembled (with some help) cube closet on the left. The bathroom is to the right, but nothing out of the ordinary there. And... that's it for the apartment.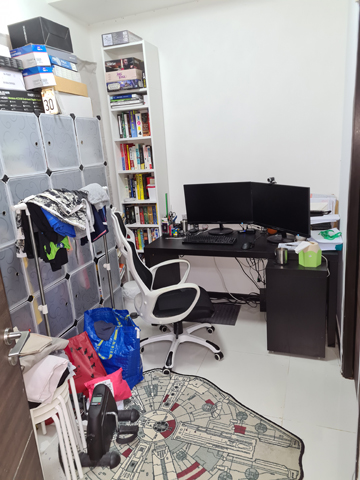 Yeah, kinda cramped




My second-to-last United match was then Solskjær's last, as he got the boot following a 1-4 defeat to Watford, that was painful to watch. While reports are that he might yet have survived a draw, I personally suspect that even a 1-2 (which was the score before injury time) would have bought him more time. They've bounced back in the Champions League with Ronaldo inevitably SIUUU-ing his way to an improbable five-match scoring streak for United already in the competition at least, and it would really take the cake if he were to somehow drag the team to the trophy by sheer bloody-mindedness. This is not even that improbable on paper, if everyone gets back into form.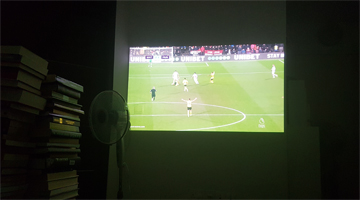 Maguire getting sent off




That's it, I suppose - as for the introduction to my new digs, watch out for it maybe in the second quarter of 2022.







Next: How Transitory This Life





Related Posts: